M0084 VOXL 2 Y-AXT Flex Cable
Specification
| Specicifcation | Value |
| --- | --- |
| Length | 125mm edge to edge |
| Width | 16mm Voxl2 edge, 28mm JL leg edge to edge |
| VOXL2-side Connector, J1 | DF40C-60DS-0.4V |
| VOXL-Side Connectors, JU and JL | AXT336124 |
The M0084 flex is a special cable connector that served many functions.
It is capable of plugging into any of the three Camera Group connectors, J6, J7, or J8, on Voxl2.
The Flex cable exposes two equivalant hardware connectors to the same 36-pin Panasonics that Voxl has from each camera group
In theory, if Qty-3 M0084 flexes were mated to Voxl2, then all 6 MIPI CSI ports are exposed as six 4-Lane Voxl style connectors
To differentiate the 4-Lane MIPI CSI porting, we use the term "Upper" and "Lower" CSI since each Camera group has two CSI ports on it
J6 has MIPI CSI ports 0 (lower) and 1 (upper)
J7 has MIPI CSI ports 2 (lower) and 3 (upper)
J8 has MIPI CSI ports 4 (lower) and 5 (upper)
The notations below include a very detailed pin table for the M0084 depending on which Camaera Group it is mated with, namely J6-J8 The mapping for the Voxl-side connectors, namely JU (upper) and JL (lower) are generic and follow the mapping from the more comprehensive 60-pin (x3 = 180) table We encourage you to copy-> paste this table into excel, and then you can sort accordingly for your group and align them with the JU and JL connectors. Also please reach out to us on our forum for any clarifications or verification.
Pin Out VOXL2-side, J1
| Camera Group | Connector Pin # | Group Function | VOXL2 Specific Net Name |
| --- | --- | --- | --- |
| 0:J6 | 1 | GND | DGND |
| 0:J6 | 2 | GND | DGND |
| 0:J6 | 3 | Lower CCI_I2C_SDA | CCI_I2C0_SDA |
| 0:J6 | 4 | DVDD 1.2V | PM8009_VREG_L2_DVDD_1P2 |
| 0:J6 | 5 | Lower CCI_I2C_SCL | CCI_I2C0_SCL |
| 0:J6 | 6 | DOVDD 1.8V | PM8009_VREG_L7_DOVDD_1P8 |
| 0:J6 | 7 | GND | DGND |
| 0:J6 | 8 | DVDD 1.05V | PM8009_VREG_L1_DVDD_1P05 |
| 0:J6 | 9 | Lower CSI_CLK_P | CSI0_CLK_CON_P |
| 0:J6 | 10 | Lower RST_N | GPIO_93_CAM0_RST_N |
| 0:J6 | 11 | Lower CSI_CLK_M | CSI0_CLK_CON_M |
| 0:J6 | 12 | Lower MCLK | CAM_MCLK0_CON |
| 0:J6 | 13 | Lower CSI_DAT0_P | CSI0_LANE0_CON_P |
| 0:J6 | 14 | GND | DGND |
| 0:J6 | 15 | Lower CSI_DAT0_M | CSI0_LANE0_CON_N |
| 0:J6 | 16 | Lower CCI Timer | GPIO_110_CCI_TIMER1 |
| 0:J6 | 17 | GND | DGND |
| 0:J6 | 18 | Upper CCI Timer | GPIO_113_CCI_TIMER4 |
| 0:J6 | 19 | Lower CSI_DATA1_P | CSI0_LANE1_CON_P |
| 0:J6 | 20 | Upper MCLK | CAM_MCLK1_CON |
| 0:J6 | 21 | Lower CSI_DATA1_M | CSI0_LANE1_CON_N |
| 0:J6 | 22 | AVDD 2.8V | PM8009_VREG_L5_AVDD_2P8 |
| 0:J6 | 23 | Lower CSI_DATA2_P | CSI0_LANE2_CON_P |
| 0:J6 | 24 | GND | DGND |
| 0:J6 | 25 | Lower CSI_DATA2_M | CSI0_LANE2_CON_N |
| 0:J6 | 26 | Upper RST_N, Shared | GPIO_109_CAM3_RST_N |
| 0:J6 | 27 | GND | DGND |
| 0:J6 | 28 | Upper CCI_I2C_SDA | CCI_I2C1_SDA |
| 0:J6 | 29 | Lower CSI_DATA3_P | CSI0_LANE3_CON_P |
| 0:J6 | 30 | Upper CCI_I2C_SCL | CCI_I2C1_SCL |
| 0:J6 | 31 | Lower CSI_DATA3_M | CSI0_LANE3_CON_N |
| 0:J6 | 32 | Spare MCLK/GPIO | MCLK6_G0_CON |
| 0:J6 | 33 | GND | DGND |
| 0:J6 | 34 | Group SPI MISO | GPIO_28_CAM0_SPI0_MISO |
| 0:J6 | 35 | Upper CSI_CLK_P | CSI1_CLK_CON_P |
| 0:J6 | 36 | Group SPI MOSI | GPIO_29_CAM0_SPI0_MOSI |
| 0:J6 | 37 | Upper CSI_CLK_M | CSI1_CLK_CON_N |
| 0:J6 | 38 | Group SPI SCLK | GPIO_30_CAM0_SPI0_CLK |
| 0:J6 | 39 | Upper CSI_DATA0_P | CSI1_LANE0_CON_P |
| 0:J6 | 40 | Group SPI CS_N | GPIO_31_CAM0_SPI0_CS |
| 0:J6 | 41 | Upper CSI_DATA0_M | CSI1_LANE0_CON_N |
| 0:J6 | 42 | VREG_S4A_1P8 | VREG_S4A_1P8 |
| 0:J6 | 43 | GND | DGND |
| 0:J6 | 44 | GND | DGND |
| 0:J6 | 45 | Upper CSI_DATA1_P | CSI1_LANE1_CON_P |
| 0:J6 | 46 | VPH_PWR 3.8V | VPH_PWR |
| 0:J6 | 47 | Upper CSI_DATA1_M | CSI1_LANE1_CON_N |
| 0:J6 | 48 | VPH_PWR 3.8V | VPH_PWR |
| 0:J6 | 49 | Upper CSI_DATA2_P | CSI1_LANE2_CON_P |
| 0:J6 | 50 | GND | DGND |
| 0:J6 | 51 | Upper CSI_DATA2_M | CSI1_LANE2_CON_N |
| 0:J6 | 52 | 3.3V | VREG_3P3V_LOCAL |
| 0:J6 | 53 | GND | DGND |
| 0:J6 | 54 | GND | DGND |
| 0:J6 | 55 | Upper CSI_DATA3_P | CSI1_LANE3_CON_P |
| 0:J6 | 56 | 5V | VDC_5V_LOCAL |
| 0:J6 | 57 | Upper CSI_DATA3_M | CSI1_LANE3_CON_N |
| 0:J6 | 58 | 5V | VDC_5V_LOCAL |
| 0:J6 | 59 | GND | DGND |
| 0:J6 | 60 | GND | DGND |
| 1:J7 | 1 | GND | DGND |
| 1:J7 | 2 | GND | DGND |
| 1:J7 | 3 | Lower CCI_I2C_SDA | CCI_I2C2_SDA |
| 1:J7 | 4 | DVDD 1.2V | PM8009_VREG_L2_DVDD_1P2 |
| 1:J7 | 5 | Lower CCI_I2C_SCL | CCI_I2C2_SCL |
| 1:J7 | 6 | DOVDD 1.8V | PM8009_VREG_L7_DOVDD_1P8 |
| 1:J7 | 7 | GND | DGND |
| 1:J7 | 8 | DVDD 1.05V | PM8009_VREG_L1_DVDD_1P05 |
| 1:J7 | 9 | Lower CSI_CLK_P | CSI2_CLK_CON_P |
| 1:J7 | 10 | Lower RST_N | GPIO_92_CAM1_RST_N |
| 1:J7 | 11 | Lower CSI_CLK_M | CSI2_CLK_CON_M |
| 1:J7 | 12 | Lower MCLK | CAM_MCLK2_CON |
| 1:J7 | 13 | Lower CSI_DAT0_P | CSI2_LANE0_CON_P |
| 1:J7 | 14 | GND | DGND |
| 1:J7 | 15 | Lower CSI_DAT0_M | CSI2_LANE0_CON_N |
| 1:J7 | 16 | Lower CCI Timer | GPIO_111_CCI_TIMER2 |
| 1:J7 | 17 | GND | DGND |
| 1:J7 | 18 | Upper CCI Timer | GPIO_114_CCI_ASYNC_IN |
| 1:J7 | 19 | Lower CSI_DATA1_P | CSI2_LANE1_CON_P |
| 1:J7 | 20 | Upper MCLK | CAM_MCLK3_CON |
| 1:J7 | 21 | Lower CSI_DATA1_M | CSI2_LANE1_CON_N |
| 1:J7 | 22 | AVDD 2.8V | PM8009_VREG_L6_AVDD_2P8 |
| 1:J7 | 23 | Lower CSI_DATA2_P | CSI2_LANE2_CON_P |
| 1:J7 | 24 | GND | DGND |
| 1:J7 | 25 | Lower CSI_DATA2_M | CSI2_LANE2_CON_N |
| 1:J7 | 26 | Upper RST_N, Shared | GPIO_109_CAM3_RST_N |
| 1:J7 | 27 | GND | DGND |
| 1:J7 | 28 | Upper CCI_I2C_SDA | CCI_I2C3_SDA |
| 1:J7 | 29 | Lower CSI_DATA3_P | CSI2_LANE3_CON_P |
| 1:J7 | 30 | Upper CCI_I2C_SCL | CCI_I2C3_SCL |
| 1:J7 | 31 | Lower CSI_DATA3_M | CSI2_LANE3_CON_N |
| 1:J7 | 32 | Spare MCLK/GPIO | MCLK6_G1_CON |
| 1:J7 | 33 | GND | DGND |
| 1:J7 | 34 | Group SPI MISO | GPIO_4_CAM1_SPI1_MISO |
| 1:J7 | 35 | Upper CSI_CLK_P | CSI3_CLK_CON_P |
| 1:J7 | 36 | Group SPI MOSI | GPIO_5_CAM1_SPI1_MOSI |
| 1:J7 | 37 | Upper CSI_CLK_M | CSI3_CLK_CON_N |
| 1:J7 | 38 | Group SPI SCLK | GPIO_6_CAM1_SPI1_CLK |
| 1:J7 | 39 | Upper CSI_DATA0_P | CSI3_LANE0_CON_P |
| 1:J7 | 40 | Group SPI CS_N | GPIO_7_CAM1_SPI1_CS |
| 1:J7 | 41 | Upper CSI_DATA0_M | CSI3_LANE0_CON_N |
| 1:J7 | 42 | VREG_S4A_1P8 | VREG_S4A_1P8 |
| 1:J7 | 43 | GND | DGND |
| 1:J7 | 44 | GND | DGND |
| 1:J7 | 45 | Upper CSI_DATA1_P | CSI3_LANE1_CON_P |
| 1:J7 | 46 | VPH_PWR 3.8V | VPH_PWR |
| 1:J7 | 47 | Upper CSI_DATA1_M | CSI3_LANE1_CON_N |
| 1:J7 | 48 | VPH_PWR 3.8V | VPH_PWR |
| 1:J7 | 49 | Upper CSI_DATA2_P | CSI3_LANE2_CON_P |
| 1:J7 | 50 | GND | DGND |
| 1:J7 | 51 | Upper CSI_DATA2_M | CSI3_LANE2_CON_N |
| 1:J7 | 52 | 3.3V | VREG_3P3V_LOCAL |
| 1:J7 | 53 | GND | DGND |
| 1:J7 | 54 | GND | DGND |
| 1:J7 | 55 | Upper CSI_DATA3_P | CSI3_LANE3_CON_P |
| 1:J7 | 56 | 5V | VDC_5V_LOCAL |
| 1:J7 | 57 | Upper CSI_DATA3_M | CSI3_LANE3_CON_N |
| 1:J7 | 58 | 5V | VDC_5V_LOCAL |
| 1:J7 | 59 | GND | DGND |
| 1:J7 | 60 | GND | DGND |
| 2:J8 | 1 | GND | DGND |
| 2:J8 | 2 | GND | DGND |
| 2:J8 | 3 | Lower CCI_I2C_SDA | CCI_I2C1_SDA |
| 2:J8 | 4 | DVDD 1.2V | PM8009_VREG_L2_DVDD_1P2 |
| 2:J8 | 5 | Lower CCI_I2C_SCL | CCI_I2C1_SCL |
| 2:J8 | 6 | DOVDD 1.8V | PM8009_VREG_L7_DOVDD_1P8 |
| 2:J8 | 7 | GND | DGND |
| 2:J8 | 8 | DVDD 1.05V | PM8009_VREG_L1_DVDD_1P05 |
| 2:J8 | 9 | Lower CSI_CLK_P | CSI4_CLK_CON_P |
| 2:J8 | 10 | Lower RST_N | GPIO_78_CAM2_RST_N |
| 2:J8 | 11 | Lower CSI_CLK_M | CSI4_CLK_CON_M |
| 2:J8 | 12 | Lower MCLK | CAM_MCLK4_CON |
| 2:J8 | 13 | Lower CSI_DAT0_P | CSI4_LANE0_CON_P |
| 2:J8 | 14 | GND | DGND |
| 2:J8 | 15 | Lower CSI_DAT0_M | CSI4_LANE0_CON_N |
| 2:J8 | 16 | Lower CCI Timer | GPIO_112_CCI_TIMER3 |
| 2:J8 | 17 | GND | DGND |
| 2:J8 | 18 | Upper CCI Timer | GPIO_111_CCI_TIMER2 |
| 2:J8 | 19 | Lower CSI_DATA1_P | CSI4_LANE1_CON_P |
| 2:J8 | 20 | Upper MCLK | CAM_MCLK5_CON |
| 2:J8 | 21 | Lower CSI_DATA1_M | CSI4_LANE1_CON_N |
| 2:J8 | 22 | AVDD 2.8V | PM8009_VREG_L6_AVDD_2P8 |
| 2:J8 | 23 | Lower CSI_DATA2_P | CSI4_LANE2_CON_P |
| 2:J8 | 24 | GND | DGND |
| 2:J8 | 25 | Lower CSI_DATA2_M | CSI4_LANE2_CON_N |
| 2:J8 | 26 | Upper RST_N, Shared | GPIO_109_CAM3_RST_N |
| 2:J8 | 27 | GND | DGND |
| 2:J8 | 28 | Upper CCI_I2C_SDA | CCI_I2C3_SDA |
| 2:J8 | 29 | Lower CSI_DATA3_P | CSI4_LANE3_CON_P |
| 2:J8 | 30 | Upper CCI_I2C_SCL | CCI_I2C3_SCL |
| 2:J8 | 31 | Lower CSI_DATA3_M | CSI4_LANE3_CON_N |
| 2:J8 | 32 | Spare MCLK/GPIO | MCLK6_G2_CON |
| 2:J8 | 33 | GND | DGND |
| 2:J8 | 34 | Group SPI MISO | GPIO_12_CAM1_SPI5_MISO |
| 2:J8 | 35 | Upper CSI_CLK_P | CSI5_CLK_CON_P |
| 2:J8 | 36 | Group SPI MOSI | GPIO_13_CAM1_SPI5_MOSI |
| 2:J8 | 37 | Upper CSI_CLK_M | CSI5_CLK_CON_N |
| 2:J8 | 38 | Group SPI SCLK | GPIO_14_CAM1_SPI5_CLK |
| 2:J8 | 39 | Upper CSI_DATA0_P | CSI5_LANE0_CON_P |
| 2:J8 | 40 | Group SPI CS_N | GPIO_15_CAM1_SPI5_CS |
| 2:J8 | 41 | Upper CSI_DATA0_M | CSI5_LANE0_CON_N |
| 2:J8 | 42 | VREG_S4A_1P8 | VREG_S4A_1P8 |
| 2:J8 | 43 | GND | DGND |
| 2:J8 | 44 | GND | DGND |
| 2:J8 | 45 | Upper CSI_DATA1_P | CSI5_LANE1_CON_P |
| 2:J8 | 46 | VPH_PWR 3.8V | VPH_PWR |
| 2:J8 | 47 | Upper CSI_DATA1_M | CSI5_LANE1_CON_N |
| 2:J8 | 48 | VPH_PWR 3.8V | VPH_PWR |
| 2:J8 | 49 | Upper CSI_DATA2_P | CSI5_LANE2_CON_P |
| 2:J8 | 50 | GND | DGND |
| 2:J8 | 51 | Upper CSI_DATA2_M | CSI5_LANE2_CON_N |
| 2:J8 | 52 | 3.3V | VREG_3P3V_LOCAL |
| 2:J8 | 53 | GND | DGND |
| 2:J8 | 54 | GND | DGND |
| 2:J8 | 55 | Upper CSI_DATA3_P | CSI5_LANE3_CON_P |
| 2:J8 | 56 | 5V | VDC_5V_LOCAL |
| 2:J8 | 57 | Upper CSI_DATA3_M | CSI5_LANE3_CON_N |
| 2:J8 | 58 | 5V | VDC_5V_LOCAL |
| 2:J8 | 59 | GND | DGND |
| 2:J8 | 60 | GND | DGND |
Pin Out Mating-side, JL (lower CSI Port)
| Pin | Net | Lower CCI Notes/Usage |
| --- | --- | --- |
| 1 | DGND |   |
| 2 | DGND |   |
| 3 | AFVDD | Normally Unused, 2.8V |
| 4 | CAM_RST_STBY_N | Normally Unused, power down signal |
| 5 | CCI_I2C_SDA0 | CCI I2C Bus, SDA |
| 6 | 1P8_VDDIO | 1.8V VDDIO (LDO) |
| 7 | CCI_I2C_SCL0 | CCI I2C Bus, SCL |
| 8 | VREG_DVDD | 1.05V (default) or 1.2V DVDD LDO |
| 9 | CAM_RST0_N | Sensor Reset Control, 0 |
| 10 | CAM_MCLKx_BUFF | MCLK, Buffered from Voxl2, 1.8V |
| 11 | DGND |   |
| 12 | DGND |   |
| 13 | MIPI_CSI_CLK_CONN_P | MIPI CSI High Speed Diff Pair, CLK_P |
| 14 | CAM_FLASH | Sensor Sideband Control, Normally Unused |
| 15 | MIPI_CSI_CLK_CONN_M | MIPI CSI High Speed Diff Pair, CLK_M |
| 16 | CAM_SYNC_0 | Sensor Sync Signal, Shorted to SYNC_1 |
| 17 | MIPI_CSI_LANE0_CONN_P | MIPI CSI High Speed Diff Pair, Data Lane 0_P |
| 18 | CAM_MCLK1 | Second MCLK, Buffered from Voxl, 1.8V. |
| 19 | MIPI_CSI_LANE0_CONN_M | MIPI CSI High Speed Diff Pair, Data Lane 0_M |
| 20 | CAM_AVDD_2P8 | Sensor 2.8V AVDD LDO |
| 21 | DGND |   |
| 22 | DGND |   |
| 23 | MIPI_CSI_LANE1_CONN_P | MIPI CSI High Speed Diff Pair, Data Lane 1_P |
| 24 | CAM_RST1_N | Sensor Reset Control, 1 |
| 25 | MIPI_CSI_LANE1_CONN_M | MIPI CSI High Speed Diff Pair, Data Lane 1_M |
| 26 | CAM_SYNC_1 | Sensor Sync Signal, Shorted to SYNC_0 |
| 27 | MIPI_CSI_LANE2_CONN_P | MIPI CSI High Speed Diff Pair, Data Lane 2_P |
| 28 | CCI_I2C_SDA1 | Second CCI I2C Bus, SDA |
| 29 | MIPI_CSI_LANE2_CONN_M | MIPI CSI High Speed Diff Pair, Data Lane 2_M |
| 30 | CCI_I2C_SCL1 | Second CCI I2C Bus, SCL |
| 31 | DGND |   |
| 32 | DGND |   |
| 33 | MIPI_CSI_LANE3_CONN_P | MIPI CSI High Speed Diff Pair, Data Lane 3_P |
| 34 | VPH_PWR_3P8V | 3.8V Primary "Phone" Power (mimics nominal 1S) |
| 35 | MIPI_CSI_LANE3_CONN_M | MIPI CSI High Speed Diff Pair, Data Lane 3_M |
| 36 | DGND |   |
Pin Out Mating-side, JU (upper CSI Port)
| Pin | Net | Upper CCI Notes/Usage |
| --- | --- | --- |
| 1 | DGND |   |
| 2 | DGND |   |
| 3 | AFVDD | Normally Unused, 2.8V |
| 4 | CAM_RST_STBY_N | Normally Unused, power down signal |
| 5 | CCI_I2C_SDA0 | CCI I2C Bus, SDA |
| 6 | 1P8_VDDIO | 1.8V VDDIO (LDO) |
| 7 | CCI_I2C_SCL0 | CCI I2C Bus, SCL |
| 8 | VREG_DVDD | 1.05V (default) or 1.2V DVDD LDO |
| 9 | CAM_RST0_N | Sensor Reset Control, 0 |
| 10 | CAM_MCLKx_BUFF | MCLK, Buffered from Voxl2, 1.8V |
| 11 | DGND |   |
| 12 | DGND |   |
| 13 | MIPI_CSI_CLK_CONN_P | MIPI CSI High Speed Diff Pair, CLK_P |
| 14 | CAM_FLASH | Sensor Sideband Control, Normally Unused |
| 15 | MIPI_CSI_CLK_CONN_M | MIPI CSI High Speed Diff Pair, CLK_M |
| 16 | CAM_SYNC_0 | Sensor Sync Signal, Shorted to SYNC_1 |
| 17 | MIPI_CSI_LANE0_CONN_P | MIPI CSI High Speed Diff Pair, Data Lane 0_P |
| 18 | CAM_MCLK1 | Second MCLK, Buffered from Voxl, 1.8V. |
| 19 | MIPI_CSI_LANE0_CONN_M | MIPI CSI High Speed Diff Pair, Data Lane 0_M |
| 20 | CAM_AVDD_2P8 | Sensor 2.8V AVDD LDO |
| 21 | DGND |   |
| 22 | DGND |   |
| 23 | MIPI_CSI_LANE1_CONN_P | MIPI CSI High Speed Diff Pair, Data Lane 1_P |
| 24 | CAM_RST1_N | Sensor Reset Control, 1 |
| 25 | MIPI_CSI_LANE1_CONN_M | MIPI CSI High Speed Diff Pair, Data Lane 1_M |
| 26 | CAM_SYNC_1 | Sensor Sync Signal, Shorted to SYNC_0 |
| 27 | MIPI_CSI_LANE2_CONN_P | MIPI CSI High Speed Diff Pair, Data Lane 2_P |
| 28 | CCI_I2C_SDA1 | Second CCI I2C Bus, SDA |
| 29 | MIPI_CSI_LANE2_CONN_M | MIPI CSI High Speed Diff Pair, Data Lane 2_M |
| 30 | CCI_I2C_SCL1 | Second CCI I2C Bus, SCL |
| 31 | DGND |   |
| 32 | DGND |   |
| 33 | MIPI_CSI_LANE3_CONN_P | MIPI CSI High Speed Diff Pair, Data Lane 3_P |
| 34 | VPH_PWR_3P8V | 3.8V Primary "Phone" Power (mimics nominal 1S) |
| 35 | MIPI_CSI_LANE3_CONN_M | MIPI CSI High Speed Diff Pair, Data Lane 3_M |
| 36 | DGND |   |
Technical Drawings
3D STEP File
2D Diagrams
-Assembly Version View:

-Dimensional View: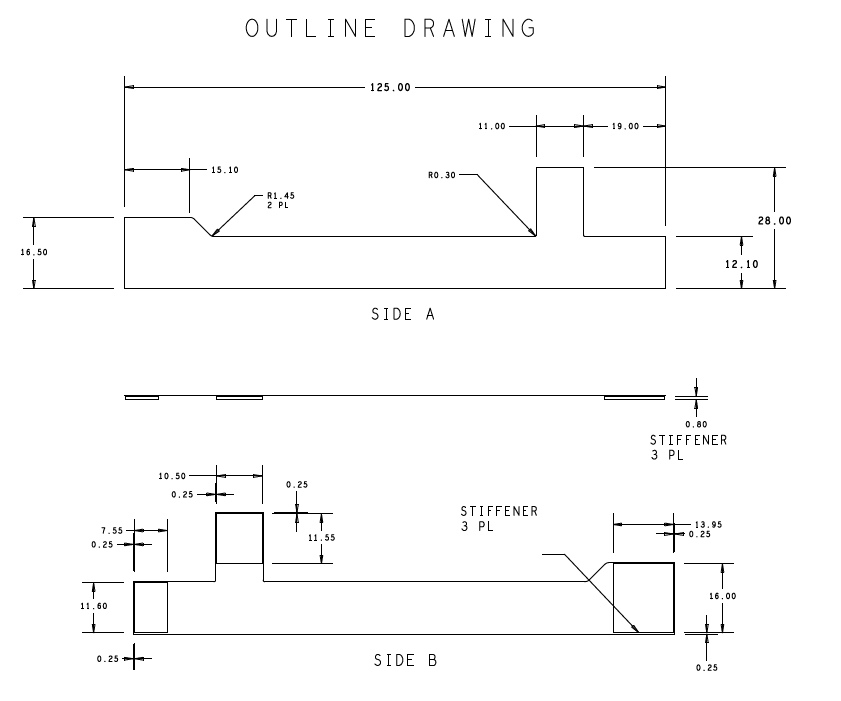 ---
---